Can Training The Brain Transform Your Health?

When you experience trauma to the limbic system - the part of the brain responsible for sensory perception, unconscious protective mechanisms and emotional control - you can begin to understand how injury to this system would begin to affect all aspects of your life. Damage to any neural circuits within this system can cause pain and skew the brain's perception of stimuli - leaving the brain and body in a chronic state of survival, otherwise known as "fight or flight." Understandably, over time this state of high alert begins to affect all systems of the body, not just the brain. When in this state, it robs the brain and body of energy that would normally be used for other functions like rest, digestion, elimination and communication. In practical terms this affects our ability to sleep, to digest and absorb food, detoxification processes and memory or cognitive abilities.

The effects of limbic system trauma can result in tremendous amounts of suffering and isolation. The pain involved in this group of unique illnesses such as chemical sensitivities, chronic fatigue syndrome, fibromyalgia and electric hypersensitivity syndrome is very real, yet usually cannot be seen by the naked eye. For many who suffer, it leaves them feeling isolated and misunderstood, or they are labelled as being controlling, or that the illness is "in their head". Far from being fictitious, this form of brain injury has far reaching ramifications and is very real. This new understanding of how the brain is involved in this group of illnesses demands that we understand how neuroplasticity (the brain's ability to change) is involved in both the development and resolution of illness.

This is the focus of the Dynamic Neural Retraining System™. We teach our clients how the brain has been changed through trauma, and moreover, how to correct the neural circuits that are in play. The results of changing brain function truly speak to the brain's role as the centre for optimal health.

Recently I was invited to a get together with two very special women - Karen and Linda - who graduated from the Dynamic Neural Retraining System™ program over 2 years ago. Both of these incredibly courageous women had suffered from severe chemical sensitivities and electric hypersensitivity syndrome due to limbic system impairment.

Karen had taken the program first and had encouraged her friend Linda to take the program as well. And now, both are recovered and living a "normal" life again. Linda's testimonial can be viewed here. This might not seem like a big deal until you realize that both of these women had lived through an amount of suffering that most people cannot even contemplate. Imagine what it would be like for a minute if you could not be in an environment that had electricity, wireless or chemicals of any kind. Life becomes very small and increasingly surreal.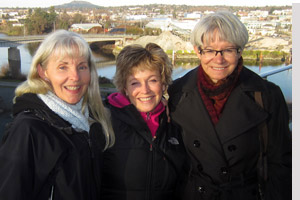 Now imagine how fun it was to skip down the busy streets of Victoria with Karen and Linda. Yes, I said skip!

When you have recovered from a limbic system impairment, one cannot help but to be thrilled and ecstatic about life again! The simple things that most people take for granted, like being able to be in a city at all, is a huge victory. Or idly walking by a person who is wearing scented products or sitting in an environment that has wireless is a huge victory. Or going to a restaurant and eating lunch like "normal ladies" is another huge victory. All of the things that people with healthy limbic systems and healthy bodies take for granted become huge milestones in the recovery process.

Being witness to people transforming their health and reclaiming their lives through neuroplasticity is a blessing in the biggest way.

Our upcoming program in Petaluma, California on March 1 - 3 is nearly sold out, so if you want to take advantage of this rare opportunity, please email us at info@dnrsystem.com to start the registration process.

On-site accommodations and all meals can also be provided for those traveling from out of area.

This will be our only program in the U.S. southwest this year. Register before February 8 and save $300!

If you have previously taken our DVD series, you also qualify for an additional $100 discount towards the cost of the in-person program. We also have a few limited scholarships available.

We look forward to seeing you there!


All Our Best
Annie and the DNRS Team
www.dnrsystem.com

Dynamic Neural Retraining System™ patient program series in the U.S. and Canada for 2013 Spring/Summer:


San Francisco March 1 - 3 (3 day )
Santa Fe NM April 18 - 22 (5 day Retreat )

Campbell River BC May 22 - 26 (5 day Retreat )
New York June 27 - July 1 (5 day Retreat )

OTHER NEWS
We are now on Facebook! Join us in our newly created Facebook page. This page is for both DNRS graduates and the general public alike. Click here to go to our Dynamic Neural Retraining System page.

New for 2013 - DNRS 5 Day Neural Rehab Retreat Program. Our five-day Retreat allows for complete neuroplasticity immersion within a small group, provides environmental friendly accommodations and all meals - all in one location. This allows for maximum focus in a distraction-free environment along with direct and immediate access to a Certified DNRS Facilitator.

Venues are selected for environmental awareness to provide comfort for those suffering. The in-person seminar involves a complete immersion in the program and often patients will notice improvements within this time. The powerful group dynamic provides both inspiration and the motivation needed to kick start the recovery process. Having direct access to DNRS Facilitators allows for more individual instruction, allows the patient the opportunity to have their questions answered, and fosters the discipline that is required for best results.

To view past newsletters: http://dnrsystem.com/newsletter_031611.html